Warning: this entry may make you unbearably hungry:
Twinkie Chan makes yummy food-themed scarves, and sometimes plushies, mittens, and other goodies. Her love for fake food is wide and deep. She used to spend all her allowance on fake Fisher Price kitchen toys and meals, with the squishy "rising" muffins and the plastic hamburgers.
She has been crocheting goodies like tiger-head Kleenex cozies, frog hats with dangly legs, and BBQ pork bun dolls for her friends and family since she was ten years old. When her Grandma Wendleton first taught her to crochet in the 80s, she made lots of misshapen brown squares for a long time and called them "mini blankets." You have to start somewhere!
Her recent love for food-themed scarves began with moving to San Francisco where the fog rolls in at night. She often shunned scarves because they were bulky and boring and reminded her of old ladies, so she set off to create cozy scarves that were fabulous, fun, and funny! She is inspired by the cookie aisle and bakery section at her local supermarket.
Twinkie opened her website,
www.twinkiechan.com
, in 2005 with a dozen scarves and some tater-tot dolls. In order to avoid disturbing her roommates, she'd crochet on the floor of her closet at three in the morning, and she has been buried under yarn and pom-poms ever since. Her work has been featured in many style and craft blogs throughout cyberspace, was highlighted on HGTV's craft show Uncommon Threads as well as mentioned in a "bump" on the Cartoon Network, and has been in print in magazines such as Giant Robot, Nickelodeon Magazine, and Glamour Italia.
This one made me so hungry, that I'm making this for dinner.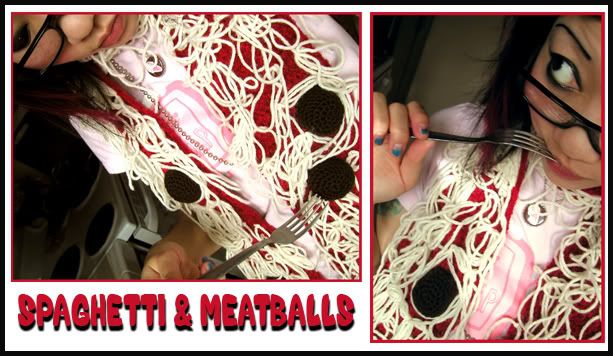 Where you can find Twinkie Chan:
www.twinkiechan.com
be sure to sign up for her mailing list!
Twinkie Chan MySpace
Twinkie Chan LiveJournal
I'll be on vacation from July 27th to August 5th - so enjoy this entry because it will be a while before I can post a new one!